Rankings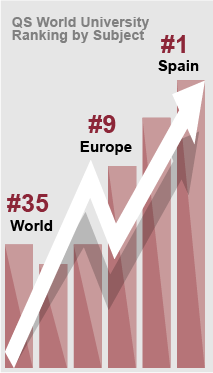 In the last year, Barcelona School of Civil Engineers has improved its position in the international rankings.
This improvement is the result, on the one hand, of the high level of scientific production of our teaching staff, which is shown by the impact of the number of articles published in indexed international journals (Science Citation Index, SCI) in the field of civil engineering and the number of citations of these articles, and on the other hand, the large number of European research projects in which we participate, as well as prizes and distinctions awarded by international organizations and institutions.
To the high scientific output, in achieving these good positions, we must add the good academic reputation of our school and the growing internationalization of the institution, which has seen increased the presence of international students and degrees recognized by the European Union with the Erasmus Mundus quality label. The school also offers 5 doctoral programs awarded with the Mention of Excellence by the Spanish National Agency for Quality Assessment and Accreditation (ANECA). This award shows the recognition of the Ministry of Education and Professional Training to the scientific, technical and training solvency of doctoral training programs that represent an international benchmark, both for its performance and its results.
Moreover, these rankings place value in the quality of the degrees taught and the high research level that our teaching and research staff develops.
International rankings and Barcelona School of Civil Engineering:
Barcelona School of Civil Engineering is positioned in the 35th world's rank in the area of Civil and Structural Engineering, the 9th in Europe and the 1st in Spain. The analysis takes into account nearly 3,000 higher education centers around the world, and evaluates citations in scientific publications (10%), authors' H-Index (10%), as well as the results of two surveys reputable worldwide, one among academics (50%) and the other among employers (30%).
Barcelona School of Civil Engineering holds the 92nd rank of the Performance Ranking of Scientific Papers for World Universities, published by the National Taiwan University Ranking (NTU Ranking), based on the production and impact of scientific publications.
This ranking positions the institutions based on the analysis of the results of a series of indicators linked to research and reputation.
Currently, Barcelona School of Civil Engineering is ranked 67th in the world among universities that teach civil engineering studies.