Some facts
The Civil Engineering School of Barcelona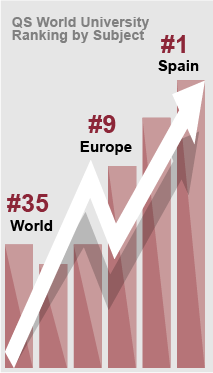 The school is led by Professor Pedro Díez and was founded in 1973. Its original philosophy is excellence and an international research vocation, together with the incorporation of a full-time dedicated teaching workforce. All this has allowed the Civil Engineering School of Barcelona to consolidate itself, at a national level, as the most prestigious center offering the three following degrees in the field of civil engineering:
The level of work insertion of these degrees is very good. The school has one of the most outstanding research records in Spain and it's among the best European universities in terms of papers published in international related field reviews. The Civil Engineering School of Barcelona demonstrates a good equilibrium between teaching, research and technological results transfer, and administration inside UPC, contributing to 20% of the UPC indicators for research and technology results transfer and using only 8% of the resources in terms of teaching staff and number of students.
Due to its international vocation, the school offers a transverse and cross-disciplinary doctorate in Civil Engineering, which includes subjects carried out in English. The program is aimed for European students, as well as for those coming from Latin-America. This center has always emphasized the establishment of collaboration and engagement links with the institutional and professional reality in the fields of civil engineering and its professionals.
Some figures:
Professors: 205
Administration & services staff: 41
Bachelor's students: 805
Master's students: 303
The school houses several laboratories and research centers, which are a reference in their fields.